After all these years, why Latosa Escrima?
The concepts-based teaching approach works well with my learning style, and is also the way that I prefer to teach.
Latosa Escrima is easy on my body. I feel confident I will be able to practice well into my 70s.
The art works, and it improves and extends what I had already.
Stick, staff, longsword, asp, tonfa, sword and buckler, spear…
Mr. Latosa is for us, a teacher, mentor and inspiration, both in terms of technique but also in terms of pedagogy (teaching approach).
Personal Details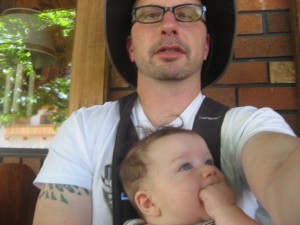 I am married with four children – Catherine (23), Kyle (21), Elijah (3), and Aiden (1) . I am a software developer (currently at Gist.com) – my speciality is building web applications using Javascript and Ruby. I am an open-minded and questioning Christian and attend Epiphany Parish. Find me on Twitter, Facebook, LinkedIn, or via eric@seattle-escrima.org.
Training Reasons
I got into the martial arts to gain confidence and learn self-defense, having had the crap beat out of me several times as a kid, and having struggled as a youngster with self-confidence issues. I have stayed in it almost 30 years because it brings me joy, keeps me fit and helps me relieve everyday stress. It is within the martial arts that I have developed my strongest relationships (outside of my family). I am thankful for all my time in the martial arts, and especially for the amazing people who have helped me grow through my training.
Current Activities
In 2007, I met Andrew, and we started talking about opening an escrima group under Mr. Latosa's purview. We agreed on a few things and got started with Seattle Escrima. We have been training together ever since. I greatly enjoy organizing and coaching for Seattle Escrima club and have high hopes and expectations that it will be a lasting presence on the Seattle martial arts scene.
Lately, I have fallen in with some people who study historical European martial arts. I find that Mr. Latosa's escrima concepts provide a underlayment of concepts and essential body-skills that mesh with the techniques documented in Italian and German sources. These sources provide a wealth of techniques and "plays," but often spare details of fundamentals. My theory is these 15th-century European masters wrote the manuscripts largely as memory aids, and never intended them as a complete, "do-it-yourself" guide to learning the fighting arts.
Styles / Influences
Cuong Nhu Karate: footwork, timing, punching/kicking, athletics, and power delivery. Mindset of martial arts as an avocation and not for profit.
Wing Tzun: footwork, balance, centerline, conservation of energy, resiliency/adaption. Dealing with power.
Latosa Escrima: balance, speed/timing/distance, focus, power, transition. Effective coaching.
Instructors
All of these people have shown great kindness and generosity in teaching me martial arts. Some of them went far beyond that, to strongly influence my life and values. They are listed below in rough timeline order.
Malcom Hamilton (CN)
Dr. Ngo Dong, founder of Cuong Nhu, an eclectic karate art from Vietnam. A philosophical leader who was to me, a father figure and continues to inspire me today.
Bruce Killingsworth (CN)
Joe Fernandez (CN)
Alvis Brown (CN)
Mary Davis (CN)
Barbara Van Essen (CN)
Frank Van Essen (CN)
Trang Nguyen (CN)
Greg Garland (CN)
Carolyn Frazier (CN)
Bao Ngo (CN)
Quynh Ngo (current CN Grandmaster)
Allyson Appen (CN)
Walter Schmidt (Wing Tsun)
Emin Boztepe (founder of EBMAS)
Joe Perry (Wing Tsun, Escrima)
Rene Latosa (founder of Latosa Escrima)
Vernon Bevan (Wing Tsun, Escrima)
Chris Mackey (Wing Tsun, Escrima)
Martin Gonzalez (Wing Tsun)
Minh Ta (Wing Tsun, Escrima)
Andrew Somlyo (Escrima)
N. S. (Western martial arts)
Guy Windsor (Western martial arts)
Training and Teaching History
1982-83: Nei Ching School, Miami, FL. Cuong Nhu karate
1983-86: Cypress School, Gainesville, FL. Cuong Nhu karate (Instructor)
1986-90: Sung Ming Shu School, Atlanta, GA. Cuong Nhu karate. (Instructor)
1988-90: Women's self-defense. Atlanta, GA. (Instructor)
1991-1995: Tukwila branch of AWTO/EBMAS. Wing Tsun.
1995-1998: Private training with Joe Perry and others. Escrima.
1994-1999: Phantom Lake Cuong Nhu. Cuong Nhu karate. Children. (Instructor/Owner)
1999-2006: Art of Defense. Cuong Nhu karate, Wing Tsun, Escrima, women's self-defense. Children and adults. (Instructor/Owner)
2008-present: Seattle Escrima Club. (Coach/Organizer)
2010-present: Lonin. Western martial arts (mostly Fiore system)